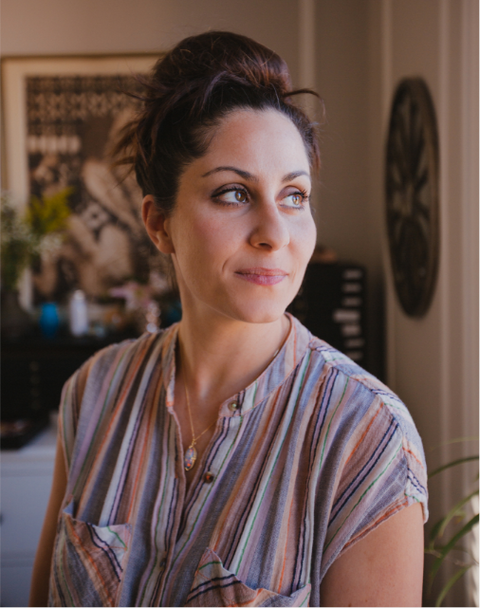 Amáli designer Sara Freedenfeld discovered her passion for jewelry while backpacking across South America. As she traversed the Andes mountains, hiking under the wide-open sky, Sara took in the beauty of the natural landscape and her imagination caught fire.  
In Chile, Sara met a macramé artist who taught her the art of using knotted string to join found objects, from the mountains, to create jewelry. Months later, Sara met a metalworker on a Venezuelan beach who taught her how to link and mold metal in exchange for lessons in macramé. 
As Sara traded knowledge with fellow artists beside the azure waters of the Caribbean, the inspiration for the textile-inspired aesthetic that would become her signature style took root deep in her mind. Sara returned home determined to create a line of jewelry that would unite the natural simplicity of handcrafted artistry with the sophistication and glamour of high fashion. 
That seed of an idea flourished into Amáli Jewelry as it is today: a collection of remarkable jewelry featuring natural gemstones in handmade 18k yellow gold settings. Sara named her company after her Grandmother, Amalia, because she embodies the spirit of the jewelry. She was a very strong and spirited woman who was also soft and tender. Sara and her husband Daniel run the company together, with a small dedicated team and the loving enthusiasm of their young daughter.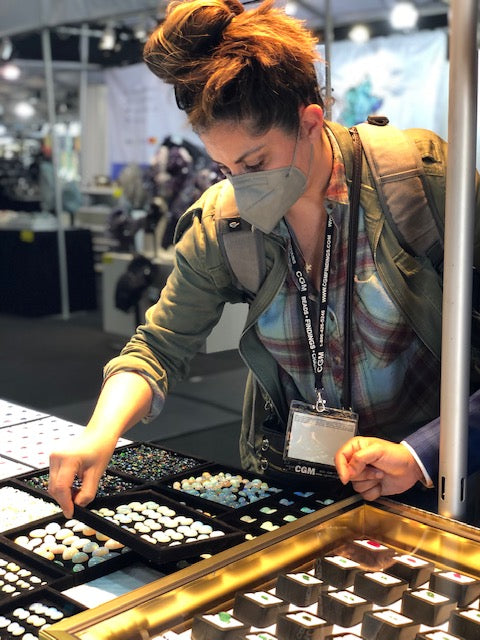 The stone comes first
"Sometimes I am bewildered that these awe-inspiring specimens come out of the earth and clay. I try to design with simplicity, framing each natural masterpiece so that the stone remains center stage." 
– Sara Freedenfeld
When Sara sources stones for Amáli Jewelry's collection, she looks for gemstones with that indefinable special something – a rugged shape, a vibrant color, a beautiful imperfection. Sara handpicks each gem, searching through Opal, Morganite, Tourmaline, Emerald, Moonstone and more until she feels drawn to one particular specimen.
Many other jewelry brands use a manufacturing process called casting, in which a mold is used to create many identical metal settings that are then set with stones of a certain shape and size. This allows for easy mass production, but it also means that the stone must follow the setting. 
For Amáli Jewelry, the stone comes first. Sara's settings are individually handmade, never cast, so that she can custom fit each 18k yellow gold setting to its stone, building a one-of-a-kind artwork around each special gem. 
Every stone used in an Amáli Jewelry piece is a treasure close to Sara's heart. She often finds it difficult to release these special gems from her clutches, but the joy of seeing them go to new homes is immeasurable.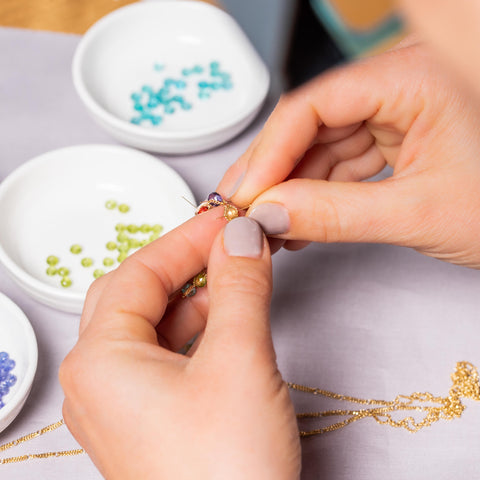 What makes Amáli unique
"I am inspired to make pieces for the woman who sees jewelry no differently than the art she displays on the walls of her home. She appreciates beautiful things, but she's not hungry for symbols of status and wealth."
– Sara Freedenfeld
Sara was never classically trained in jewelry making, therefore her approach to her craft is truly one-of-a-kind. Her signature textile-inspired technique is a glorious hybrid of artistic inspiration. Spectacular gemstones are showcased in shining, 18k gold jewelry that has the fluid, seductive feel of fabric.
Every Amáli jewel is handmade to precisely craft each element of the piece, down to individual gold head pins and jump rings. Some designs are woven in a way that makes them feel like golden cloth. Other designs bear touches of textile in the form of braided details or chain embellishments.
Sara's philosophy is that jewelry should be comfortable and easy to wear. These treasures are meant to be enjoyed every day, rather than being tucked away in a safe.