"Pieces for those who see jewelry no differently than the art displayed on the walls of their home."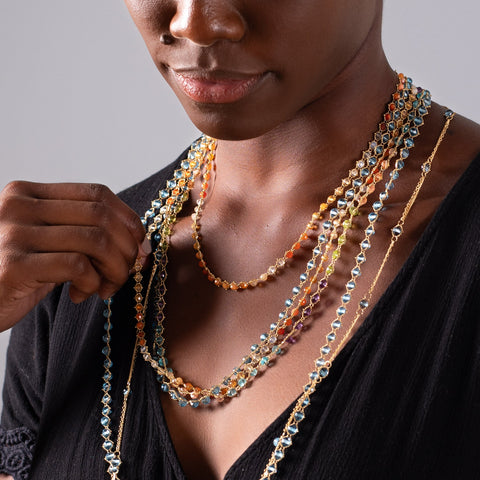 HAND WOVEN
Each piece in this collection is meticulously hand-woven with 18k gold and beautiful stones, giving it a fabric-like effect.
Some designs are woven in a way that makes them feel like golden cloth, others showcase subtle braided details and chain embellishment.
ONE OF A KIND
At Amáli the stone always comes first. We hand-select stones for their distinct properties and inclusions and create 18k gold bezels to fit their unique shape. Nothing is ever cast.
Each piece is made by hand, creating remarkable and distinguished one-of-a-kind designs.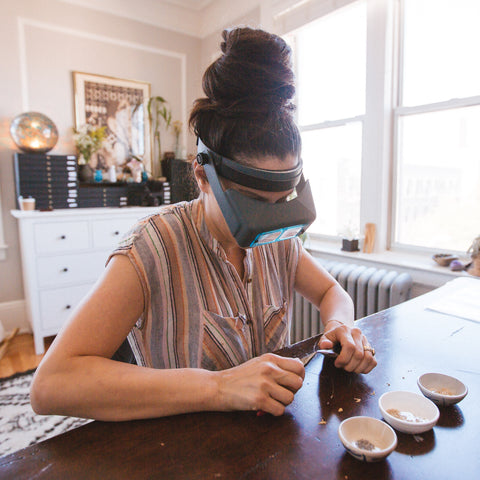 About Us
Aside from the small gifts of knowledge she received during her travels, which continue to influence her work today, Sara is largely a self-taught artist. She is often inspired by textiles, and many of her pieces have a fabric-like sensibility, created by intricately weaving chains and stones to create rich textures. Each Amáli piece is handcrafted by our small team of master weavers and metalsmiths.
Testimonials
"I've received a package of boulder opal necklace on a new moon day! And thank you so much for a bar soap and bath bomb! It made my day! I will cherish the necklace and keep it forever :) Thank you so much!!"
"Speaking of sensitivity… I love how this mother channels her sensitivity into her craft. If you've ever noticed I'm always wearing a favorite necklace, it's Amali Jewelry."
"Today I received my beautiful necklace. It is my belated 70th birthday present!  I am in awe of this breathtaking necklace!  So incredibly delicate, yet eye catching!!  It is so well made and unique!!  I cant wait to wear it!  I have followed your jewelry on instagram for quite awhile.  I am so glad I finally was able to purchase one of your pieces!!  Thank you so much!"
"I love their gems and handmade gold jewelry! Nothing like it!"
I received the package. Thank you so much for the goodies, smells amazing. Tell Sara, I said thank you and I appreciate her note. I love my new bracelet! I love all my Amali purchases, but this one is my favorite and means the most! Thank you so much for taking care of me.